Schedule Bots free up precious time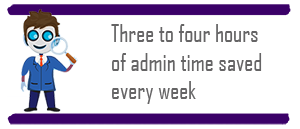 Arranging a meeting between a likely candidate and a prospective employer can be a tedious and trying process, as any recruiter knows. The initial optimism of: "That's great, I will arrange some time for you and the candidate to chat", can be curdled by the seven calls and three days of waiting before your crack recruiter finally manages to get a slot. Avoiding so much wasted time on admin for every placement is a key goal. Our Schedule BOT just sorts it out for both sides in moments, and keeps you in the loop. It's as simple as that. 
Our client needed an easier way to get its clients and candidates together quickly
Our client summed up its problem in a few words. It told us: "The biggest thing we need to achieve, is to make our recruiters more productive. That would improve our margin, but we don't have any resources for admin support!"

In a few simple discussions we could see that the recruiters lost so much time just trying to get preferred candidates together with the client. The process would typically involve numerous phone calls, back and forth between the parties. And then something would move, and it would all start again. Speed is everything in recruitment. One of the recruiters told us:" if you gave me a full time scheduler, I would be able to bill more'..
ScheduleBot automatically arranges the first and most convenient time slot to connect
On initial engagement, ScheduleBot is set up quickly and easily with the client and the candidate.It's then ready to act. ScheduleBot goes to work as soon as the client shows an interest in a candidate. With just a few clicks, ScheduleBot will automatically schedule the earliest and most convenient slot possible. There is no need for the recruiter to be involved. It just keeps the recruiter in the loop if there's a need to follow up or update your system. It can even automatically schedule a short follow-up call to find out how the interview went.
Connected Candidates and clients led to faster placements and saved hours of admin
On average, our clients have found that ScheduleBOT saves every recruiter three to four hours of admin work every week. Across a global business with hundreds of recruiters, that represents huge productivity improvements. There is also a customer service benefit, because clients find the best candidates quickly. "It's such a simple idea but the time it saves is incredible," says one of our clients.